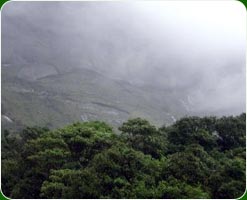 Altitude - 1572 m Above Sea Level
Best Time to visit - December is a good month to visit Nelliyampathy.
Location - 75 Kms From Palakkad, Kerala
Nelliyampathy Hill Station is located about 75 km from Palakkad, Nelliyampathy is located on the high ranges of the Western Ghats and offers a stunning view of the Sholayar Pass. It is situated at a height of 467 m to 1572 m above sea level. The Nelliyampathy hills consist of a chain of ridges cut off from one another by dense evergreen forests, valleys and orange plantations. It offers great views of the mountains and enchanting valleys interspersed with sprawling tea, coffee, cardamom and orange plantations. It is on the border between Tamil Nadu and Kerala and so lies in the middle of many other tourist destinations.
Nelliyampathy is an exotic place with lush green and fertile vegetation, misty hills and charismatic blooms that gives a combined vacation of relaxation and attraction. Nelliyampathy hills are a place that gives you the best relaxation as well as refreshing vacations.
This is indeed a life time experience that each and everyone should enjoy in ones life. The blend of aroma of coffee, tea and spices are a delight of this hill station luring the tourists to stay around and enjoy the direct aroma wafting through the air.
The green valleys and misty hills of Nelliyampathy are perfectly enticing that inhaling the crisp and clean air soothes and revives the cells and the very soul of your being. This abundant and bountiful nature keeps you ingrained to the spot with its precipitous beauty. Merely gazing or watching the enchanting scenery for hours pass by without any indication of boredom.
People who love adventurous tasks are bestowed with multitudes of exciting and thrilling activities such as mountain climbing and trekking at Nelliyampathy. Visiting a place such as Nelliyampathy is an experience that truly overwhelms the mystic charm as well as the splendor.
Padagiri in Nelliyampathy is the highest peak and is one of the best places to get involved in some of the exciting sports. These sports are optimistic of setting your pulse racing.
The orange plantations and the lush green forests are other significant attractions to be enjoyed as a part of this tour.
Visiting Nelliyampathy once will enhance its worthiness and the abundance of wealth it can bestow on you in regard to peace and relaxation.
This being the most main motive of any vacation is well served here and justified. Moreover, the rejuvenating air in Nelliyampathy is tantamount with the beguiling valleys that are speckled over this region.
Justifying the name Nelliyampathy it invokes greens in perfect combo with the blue sky, complementing hills and touching blooms. All these together make Nelliyampathy a delightful hill station in Kerala. The bracing climate enhances the invigorating experience of the spell of the nature. It bestows a fantastic view of the valley and Nelliyampathy has mammoth trekking potential. There are enough facilities to reach Nelliyampathy. You can take airways to the nearest airport Coimbatore and the nearest railway station is Palakkad.
Tourist Attraction in Neeliyampathy
Pothundy Reservoir
Pothundy Reservoir is situated about 17 km from Palakad enroute to Nelliyampathy and serves as a perfect stopover. This reservoir was built across the rivers Meenchadyppuzha and Padippuzha; both are the tributaries of Ayalar. Pothundy reservoir is situated in the midst of picturesque scenery and gives a fascinating view.

It is one of the oldest dams build in 1800 AD and its specialty is no cement, concrete or iron is used in the construction. Pothundy dam is constructed with boulders mixed with jaggery and quick lime as a pasting agent. This small dam is still in perfect condition and serves as a main irrigation source for nearby areas.


Raja's Cliff (Mampara Peak)
Mampara Peak is the most fascinating view point located in Nelliyampathy at a height of 5250 feet above sea level. From Raja's Cliff one can have a breath taking view of the entire mountain range, green forests, reservoirs, and water falls. The terrain is very rough in most places and can be accessed by mountain jeeps and some places only by jungle paths.

This area is fully surrounded by number of tea gardens, coffee estates and cardamom plantations. There various wild animals such as elephants, giant squirrels, sambars and leopards inhabited in the adjoining hills. This forest also houses rare varieties of wild birds.


Seethargundu Viewpoint
Seethargundu viewpoint is situated in the Western Ghats at Nelliyampathy at a distance of 8 km. This place is associated with Hindu mythology. It is believed that Ram, Lakshman and Sita rested here during their fourteen years exile. Seethargundu waterfall that flows from 100 ft gives a wonderful experience. This place gives a panoramic view of stone queries and paddy fields spread around resembling a green blanket.

Seethargundu can be reached by road from Palakkad via Nelliyampathy. There are few bus services that too available in restricted hours. Seethargundu estate is one of the best organic farm cultivating tea and coffee. Mampara, Padagiri, Kesavpara and Pothundy reservoirs are some of the near by attractions worth visiting.


Trekking
Nelliyampathy's hilly terrain and thick forest provides immense opportunities for trekkers. As most of the hills have a height ranging from 500 meters to 1600 meters, they provide tremendous potentials for trekkers to explore the terrain and forests. Padagiri peak is an excellent place for trekking.

There is a base camp at Kaikatty where trekking and camping facilities are provided. Forest department's guest houses also provide trekking facilities and local guides for accompanying the trekkers. During the trekking trials tourist can enjoy the flora and fauna of Nelliyampathy forests and also have an opportunity to watch wildlife and birds.
How to reach Nelliyampathy Hill Station in Kerala
By Air
The nearest airport is in Coimbatore, which is nearly 140 km away from the Nelliyampathy. Coimbatore is well connected to all major cities in south India, including Chennai, Bangalore and Hyderabad.


By Road
The hills of Nelliyampathy lie at a distance of 75 kms from Palakkad. It takes 2 ½ hours to travel to the place.


By Train
Palakkad, at a distance of about 75 km away from Nelliyampathy, is the nearest railway station. Palakkad junction (Olavakkode) is an important station and the trains have stop at Palakkad and from there one can take a taxi to reach Nelliampathy.