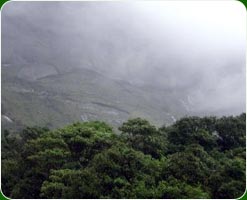 Altitude - 1740 meters above sea level
Best Time to visit - November to April
Location - Located in the Brahmagiri hills, 7 km north-east of Thirunelli.
Main Attraction - Wide variety of birds and wild animals
Access: Pakshipathalam can be reached only by trekking
The hill station of Pakshipathalam, as the name itself suggests, is abode to numerous birds of various species. A major tourist destination in Kerala, this picturesque location, along with its exotic wildlife is sure to enthrall you on your tour to Pakshipattam.
The deep rock caves carved out of the blocks of rocks at the northern end of the Brahmagiri hills are home to a vast variety of birds and wild animals. The area is covered with dense forests, flowing streams and steep hills that make the trekking journey all the more challenging.
Wildlife in the area includes various rare species of birds besides elephants, tigers, jungle cats, civets, bison, peacocks, wood peckers etc. Bird Watchers can view some exotic species of birds from the watch tower of the Bird sanctuary which is situated nearby.
Another major attraction of Pakshipathalam is a cave where ancient rishis (saints) were believed to have meditated.
Tourists are required to obtain special permission from the Forest Department to go for a tour to Pakshipathalam. Vehicles, guides and camping apparatus can be arranged by the District Tourism Promotion Council to facilitate the tourists.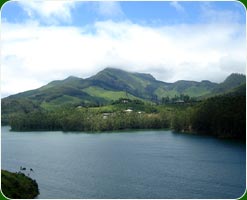 Tourist Places around Pakshipathalam
" Pookot Lake
The most important tourist destination in Wayanad, Pookot Lake is a natural fresh water lake nestled amidst evergreen forests and wooded slopes. Located 3km south of Vythiri town, this idyllic lake is at a distance of 13 km from Kalpetta.


" Kuruvadweep
Located in close proximity to Pakshipathalam, Kuruvadwep is a beautiful island, stretching for 950 acres on the banks of the Kabani River, 17 km from Mananthavady.


" Chembra Peak
It is the highest peak in Wayanad, rising to a height of 2100m above sea level. Located 14 km west of Kalpetta.
How to reach Pakshipathalam Hill Station in Kerala
Pakshipathalam is about 7 km away from Thirunelli and trekking is the only mode of reaching this place. Thirunelli is about 32 km from Mananthavady.
By Rail: The nearest railway station to Pakshipathalam is at Kozhikode from which the only way of accessing this quaint and historic hill station is by trekking.


Nearest airport: How to Reach Pakshipathalam By Air Kozhikode is the nearest airport to the hill station of Pakshipathalam with its airport called the Karipur International Airport being located around 55 km from Pakshipathalam.


By Road: The only way of reaching the slopes of Pakshipathalam is by trekking.