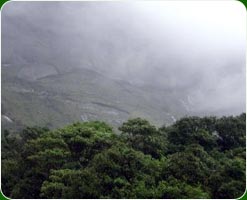 Altitude - 1000 m above the sea level
Location - 61 kilometers from Trivandrum, Kerala
Main Attraction in Ponmudi - Scenic hill station
From Thiruvanathapuram, the hill station of Ponmudi is at a distance of 61 km. At an altitude of over 100 m above seal level on the Western Ghats, the winding streams with their green water and the verdant woods in the midst of quiet surroundings, is sure to attract any visitor to Ponmudi Hills. Vistors to Ponmudi must not miss out on their trekking.
The places of interest around Ponmudi are the Peppara Wildlife Sanctuary, Golden Valley, Deer Park and Orchids.
For all you adventure seekers, Ponmudi hill station offers many adventure sports like trekking, rock climbing, mountaineering, etc. One can go on long leisurely walks along the meandering roads that wind up the hill. This beautiful hill station is a scenic view and it also has natural springs that help keeping the valley lush green. The hill station also has tea gardens that make it a picture perfect location. The view from cottages and resorts up the hill is breath taking and it feels as though time has left this place untouched.
An ideal picnic spot, Ponmudi is a hill station that should be visited while on your trip to Kerala. Soak in the scenic beauty and feel refreshed in pure nature. The place is easily accessible from Trivandrum, Kerala.
Varkala is also a getaway from Ponmudi, which is an important Hindu center of pilgrimage as well a famous beach. The beach is adorned with high cliffs and mineral-water springs all around the coastline. The prime attractions of the Varkala are the 2,000-year-old Janardanaswamy Temple and the Nature Center.
Tourist Attractions in Ponmudi
Spice plantations
Tea plantations
Echo Point
Agasthyarkodam peak (2000 m)
Aranamula temple
Golden Valley
Deer Park
Meenmutti Waterfall
Mini zoo to the north of Ponmudi Crest (Barasinghas can be spotted)
Accommodations Available
How to Reach Ponmudi, Kerala
By Air
Nearest airport is Trivandrum International airport which is about 15 km away from Kovalam. Trivandrum International airport is connected to all major airports in India and it is connected to many cities abroad including Colombo, Singapore and many gulf cities.


By Rail
The nearest rail head to Kovalam is Trivandrum Central (Thampanoor) railway station. It is about 15 km away from Kovalam. Trivandrum is well linked with all cities in India through rail.

By Road
Kovalam is well linked by the city bus services from Trivandrum and other main junction in the district. Tourist luxury buses are available from many cities like Bangalore, Chennai, Madurai and Nagarcoil to Trivandrum. City bus charges.