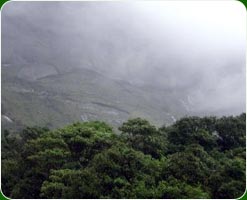 Altitude - 914 m Above Sea Level.
Best Time to visit - September To May.
Location - 85 Kms East Of Kottayam, Kerala.
Main Attraction - Kuttikanan, Thrissanku Hills.
Languages - Malayalam, Hindi, English.
Peerumedu is hill station in Kerala, located on way to Thekkady, and about 85 Km east to Kottayam, this tiny hill station was at one time the place to beat the heat for Travancore Rajas. The place has some great scenery along the tea and coffee estates with ecological beauties.
Along with the tea and coffee plantations here, few other Kerala specialties like pepper, cardamom, rubber and eucalyptus are found here. The entirety of Peerumedu is enveloped with a fragrance that is heady and delightfully intoxicating. There are vast grass lands and plantation in and around the place.
It was named after a Sufi saint Peer Mohammed, the place attracts tourist from across the world. Peerumedu is contained by means of rail and road to all major cities of Kerala and adjoining state.
Places of Interests on Peerumedu
Kuttikanan, Thrissanku Hills are some of the places of interests in Peerumedu. These can mesmerise the tourists` mind to the fullest.
Thrissanku Hills:
Lying almost four km from Peerumedu and ½ a km from Kuttikanam, this hill tract, nestled within undulating hills, is spectacular to look at. Gentle breeze offers a stroke of affection to the people. Taking stroll for miles one can see the spectacle of sun setting and rising in the open horizon. It is an experience which everybody can cherish for long.


Peeru Hills:
Another tourist attraction is only four km away from the place. It is a trekkers delight. People also regard it ideal for picnicking. Mausoleum of the Sufi saint Peer Mohammad, majestic summer palace of the regal family and the magnificent Diwan residence lies close by. These are all worth visiting.


Kuttikanam
Kuttikanam is an ideal place for all people who have a nose for adventure tourism. From Peerumedu one needs to trek only a short distance of 3 km to reach the destination.


Vagamon
Vagamon is another attraction of tourists. It is located at a distance of only twenty-five km from Peerumedu. Grassy hillocks, velvet-textured fields make the place a ideal retreat for tourists. Cool breeze blows over the mountain. It enmeshes a peculiar religious fervour within the western tradition and culture and becomes a refuge of calmness. Special attractions are Thangal hills, Mudugan Hill and Kurisumala which are standing symbol of religious spirits. There is a dairy farm, which is managed by the Kurisumala monastics. Tourists visit this place also.
Other places like Kalthotti, Karandakapara Hills, Grampi (Paruthupara) and Memala are ideal destination for trekkers. Tourists also pay visit to the tea, coffee, cardamom and rubber plantations.
Touring places like Meloram, Nallathanni, Panchalimedu, Valanjamkanam waterfalls etc. would be quite memorable.
Sahyadri Ayurvedic Centre
is a landmark. This famous Ayurvedic Hospital is supervised by the Peerumedu Development Society in Pallikunnu. It specializes in remedial and rejuvenating treatment packages. It offers well-appointed treatment and accommodation facilities comprising a unit for producing ayurvedic medicines. There is also a well-maintained raw drugs museum which houses more than two hundred types of rarified and rare herbs. Inside this hospital there is a beautiful garden covering a total area of more than thirty-five acres of land. Oven four hundred herbs rich in medicinal values are grown here.
Accommodation in Peerumedu
The hill station of Peerumedu is thronged with a handful of hotels and lodges, offering fabulous services to their lodgers. In other words due to hi-class accommodation services the stay of lodgers in Peerumedu, Kerala have become even more thrilling. Accommodation ranges from lavish hotels to low costs ones. The Royal Summer Residence now has been transformed into a Government Guest House. Offering comfortable accommodation, it is supervised by the Department of Tourism.
How to reach Peerumedu
Reaching Peerumedu is quite easy. A person has to travel two hours to reach the place. Regular buses ply in the surrounding cities like Kumily and Kottayam. Numerous roadways have established connectivity of Peerumedu with other places of Kerala. These well maintained roads also link with cities of adjoining areas like Tamil Nadu.
By Rail
:The closest railway station of Peerumedu is Kottayam, which lies almost eighty-five km from this picturesque hill station of Kerala.